Boho Style Inspiration For The Home From The Newest Retail Space of Grace Loves Lace
It's rather unusual to find an Australian brand in Texas, particularly a bridal shop, but that is exactly what Grace Loves Lace is – with their latest flagship store in Dallas (the third in the United States) that opened recently as part of their global expansion. I don't share bridal shops typically on this site, for reasons I don't think we need to elaborate on (but normally they are all following the same format), but this one really caught my attention because of its beauty and the history of their lace which is carefully chosen from select mills in Calais, France. I have always had a thing for delicate French lace, it's so pretty for a special occasion or even to use to embellish something in the home, like the bottom of linen curtains in a little girl's bedroom, so this shop really spoke to me. I guess I also just like to see something different for a change. This is a shop that worth seeing whether you are getting married or not – it's so pretty!
So let's talk about this shop for a moment and then I'll give you a peek around along with my very own CREATE THIS LOOK guide at the bottom. The new Grace Loves Lace showroom in Dallas combines locally sourced furnishings with imported foliage, giving it a bit of a boho coastal vibe, which you'll soon see in the tour.
Founder + Designer Megan ZIems with her children
Inspired by the design and architecture of the founder's home, Designer Megan Ziems, this space is, "the perfect blend of Australian décor and Southern charm". You can find plenty of natural light, soaring ceilings, recycled timber, antiques and pottery, custom-made mirrors, and leather and gold accents in this space which is a perfect contrast to the white floors, walls and of course, the lace dresses. The result? Beautiful, warm and inspiring! I love the dark wood with the delicate lace and pottery most of all. It's so unique.
When doing some research for this story, I learned quite a lot about the business including a fun fact: Grace Loves Lace has the "Most pinned bridal dress on Pinterest", a dress that the founder designed that woman all over the world fell in love with – this one. The best part (for me) is that it was called the "Hollie" dress (named after the founder's sister, not me, but still…) And though Hollie sold out, they now have the "Hollie 2.0" which is nearly identical to the original.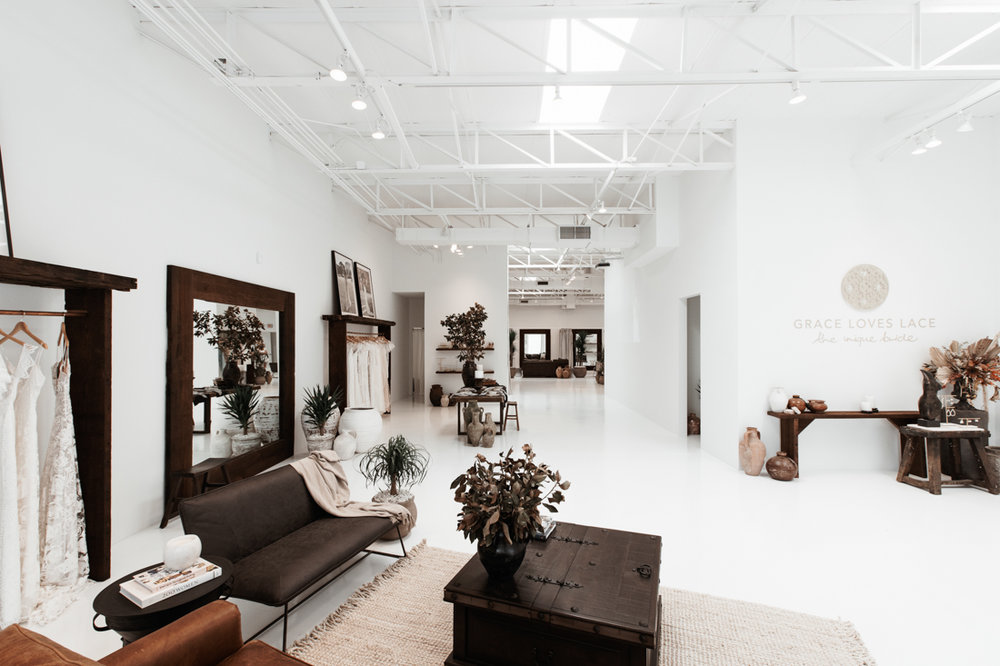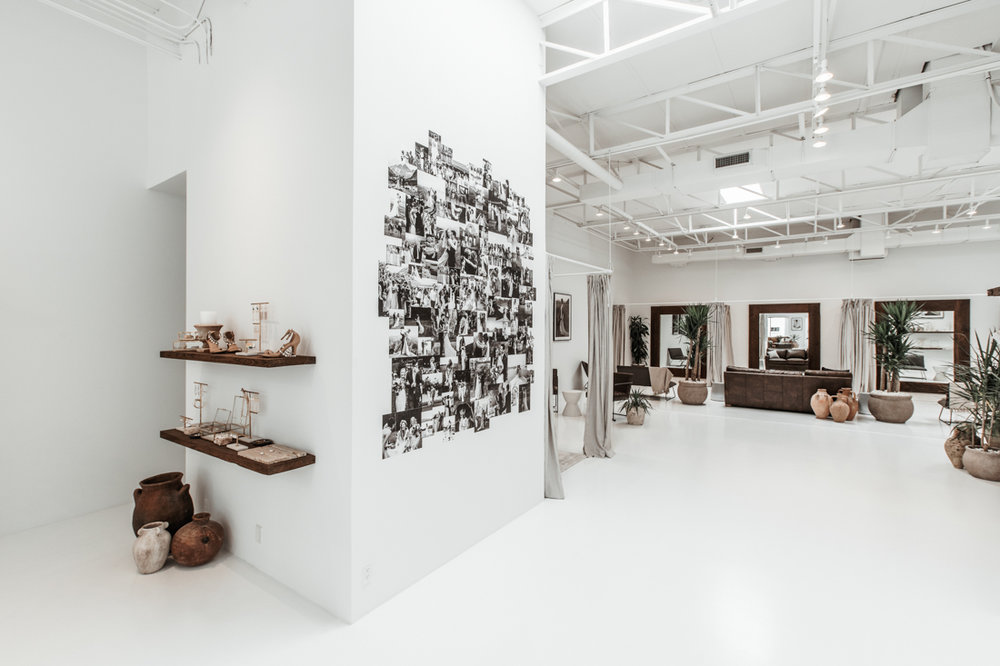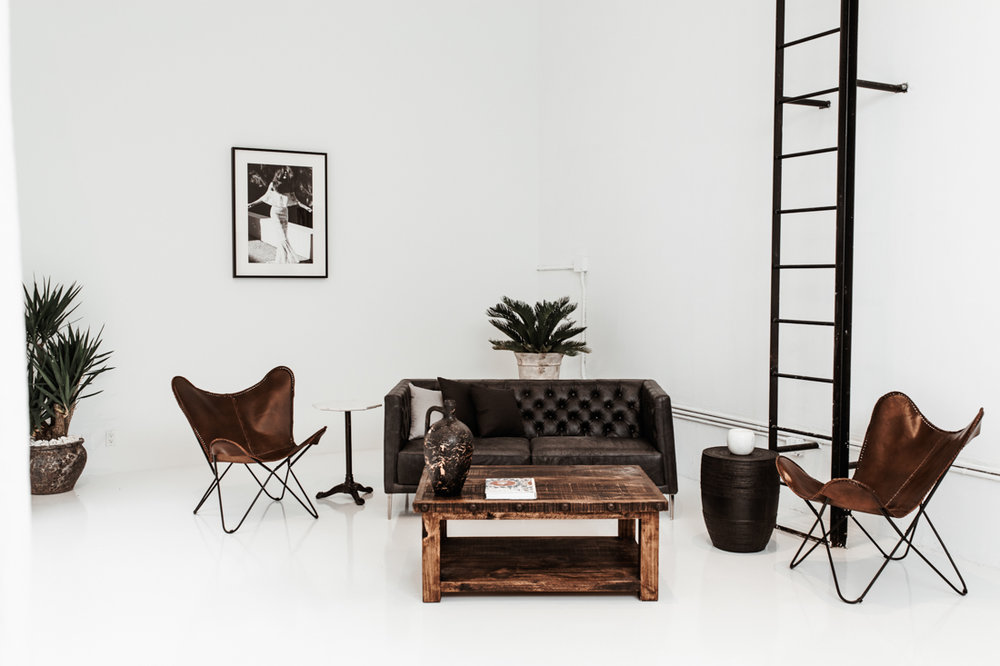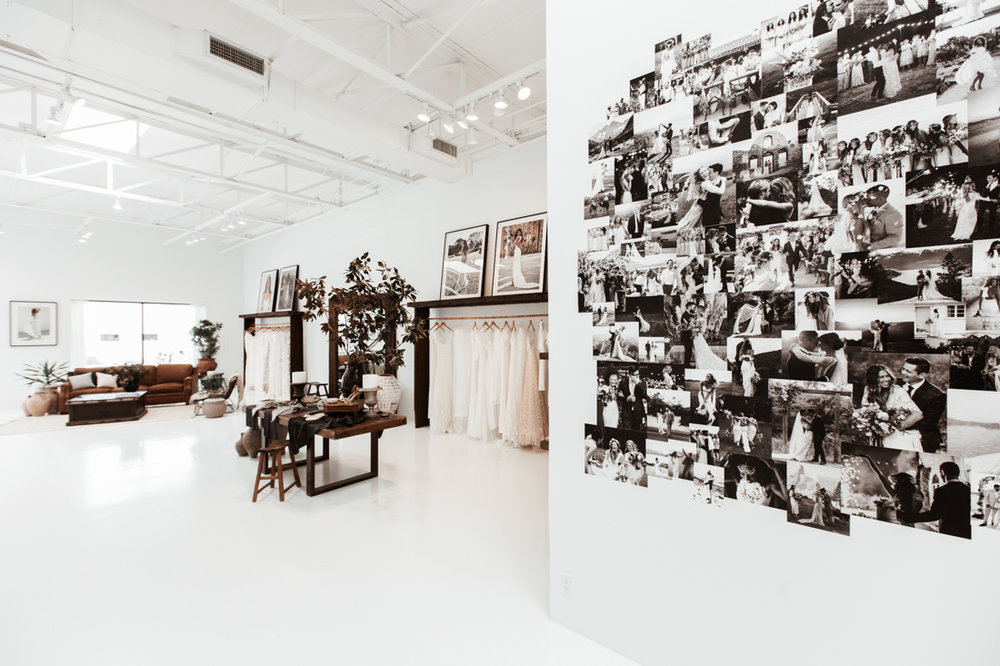 I hope that you enjoyed the interior of this retail space. I find that it's nice to see how shops are designed because often I get so many ideas for my home from shopping in all sorts of spaces along with museum and cafe visits. Inspiration for the home can come from the most unlikely spots. Even a bridal shop can be a jumping off point for a new design idea for your interiors. Seek inspiration everywhere, through as many channels as you can soak in! It's really all about exposure to beautiful, well-designed things. The more you train your eye to good design, the better at design you will become. Really!
DESIGN TIPS TO CREATE THIS LOOK
MIX DELICATE DETAILS WITH RAW, EARTHY PIECES

MIX IN POTTERY

ANTIQUES ARE A MUST

OPEN AND WHITE SPACE WORKS GREAT WITH DARK WOODEN ACCENTS

ADD MATTE GOLD AND BRASS AS AN ACCENT (NOT METALLIC SHINY GOLD)

PLANTS – PLANTS – PLANTS (but more dark green, no light green or lime tones)

TREES in dark green

GROUP LARGE POTS ON THE FLOOR (ANTIQUE OR THAT LOOK OLD AND WORN)

BROWN LEATHER SOFAS AND CHAIRS

BLACK METAL FRAMES FOR CHAIRS

CHUNKY WOODEN SOFA AND DINING TABLES

BLACK AND WHITE ART

CHUNKY FLOATING WOODEN SHELVES THAT ARE RECYCLED FROM A PREVIOUS LIFE AS SOMETHING COMPLETELY DIFFERENT

DRIED FLOWERS IN EARTH TONES

SHEER WHITE DRAPES ON WINDOWS

TABLETOPS WITH BLACK LINEN

DINNERWARE THAT IS OR LOOKS HANDMADE IN EARTH TONES

PILLAR CANDLES, ARRANGE SOME IN OLD PLANTERS ON TABLES
Have a lovely weekend and thank you to Megan at Grace Loves Lace for sharing her new store with us today.
(Store Photographs by Laning Photography, Portrait of Founder by Libby Dodd. All with permission from Grace Loves Lace.)